PureFTPd Manager is a simple Cocoa frontend to PureFTPd, "a free (BSD), secure, production-quality and standard-conformant FTP server based upon Troll-FTPd", for Mac OS X.

Main Features:

Easy setup assistant
Uninstall in few clicks
Server status in realtime
Consult server logs smoothly
Powerful Virtual User mechanism
Serve several hosts on the same
computer
Full integration with Mac OS X
Control server settings through
preference panes
Anonymous user capabilities
PureDB / MySQL users base
Support for SSL encrypted logins
Support for directory aliases
And much more: Virtual directories, time and ip restrictions, user banner creation, log graphs, ...
Mac OS X Add-ons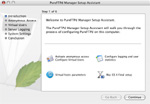 PureFTPd Manager's goal is to integrate nicely PureFTPd on Mac OS X client and server. A startup item that loads PureFTPd while booting your system is provided as well as Rendezvous support so your server is instantly visible to everyone in your local network.
To help you set up your server, an assistant will be pop up first time you launch PureFTPd Manager.

PureFTPd Preferences
With PureFTPd Manager, you can control the server's behaviour in few clicks. Enable / disable anonymous access, configure your authentification methods, regulate bandwith usage, and many more...

User management
Virtual users is a simple mechanism to store a list of users, with their password, name, uid, directory, etc. It's just like your NetInfo database... But it's not. It's a different file, only for FTP. It means that you can easily create FTP-only accounts without messing your system accounts.
Thousands of virtual users can share the same system user, as long as they all are chrooted, and they have their own home directory.
PureFTPd Manager features a complete User Manager that lets you create and remove Virtual Users and control their access.

Server Logging
To make sure you don't miss a thing, PureFTPd Manager analyzes server's logs and provides detailed statistics about users' requests, recording downloads and uploads, transfer size, date and host's internet address.

Virtual hosts
Using Virtual hosts is a convenient way of hosting several FTP sites on the same computer; a must have for extreme FTP administrators !
PureFTPd Manager's Virtual Hosts management records your virtual servers and enables them automatically every time you start PureFTPd.

Server Status
It's always nice to know what's going on. PureFTPd Manager provides statistics on connected users and bandwidth usage, lets you close user sessions and can refresh automatically so you won't miss a thing.

Preview
Everybody loves screenshots !